---
---
Recruitment Status
| | |
| --- | --- |
| Fixed Wing | Status |
| M-2000C | Recruiting |
| AJS 37 Viggen | Recruiting |
| F-16C Viper | Recruiting |
| F-14B Tomcat (Pilot and RIO) | Recruiting |
| F/A-18C Hornet | Land-Based Only |
| F-15C Eagle | Recruiting |
| A-10C II Warthog | Recruiting |
| AV-8B Harrier | Recruiting |
| | |
| --- | --- |
| Helicopters | Status |
| AH-64D Apache | Recruiting |
| Mi-24 Hind | Recruiting |
| UH-60L Black Hawk | Recruiting |
| Ka-50 Black Shark | Recruiting |
| Mi-8 Hip | Recruiting |
| UH-1 Huey | Recruiting |
| SA342 Gazelle | Recruiting |
See the Squadrons page for more detailed requirements and more!
---
---
---
Schedule
| | |
| --- | --- |
| Event Type | Event Time |
| Joint Platoon Operation | Sunday @ 7:45 pm EST |
| Air Force Platoon Training | Thursday @ 9:00 pm EST |
| Naval Platoon Training | Thursday @ 9:00 pm EST |
| Rotary Platoon Training | Tuesday @ 9:00 pm EST |
---
---
---
About us
Greetings and welcome to the TAW North America 33rd Battalion! Our team is made up of pilots from all around the US and Canada that have a passion flying in Eagle Dynamics' DCS World.
Our group focuses on teamwork to achieve mission objectives in a weekly Sunday evening event that requires all strikers, fighters, and helo pilots to be performing at the top of their game in order to be successful. During the week, we also conduct training sessions, as well many pilots hop on regularly for more ad-hoc casual flying, ground pounding, and dogfighting. Our goal is to enjoy everything that multiplayer DCS has to offer, as we feel that flying together as a team, and collaborating over SimpleRadioStandalone, TeamSpeak and Slack enhance the DCS experience greatly. Examples would include coordinating a buddy lase between an A-10C and a Hornet, or having multiple navy aircraft successfully executing a radio silent case 1 recovery over the carrier, or helos establishing and reinforcing a FARP deep inside the AO while supported by CAS from the Harriers. The possibilities are limited only by our imagination, and maybe the RAM in our gaming rigs.
If you are of a like-mind, please take some time to peruse our website and maybe consider joining our team, we are always open to recruiting pilots for all air frames.
Some things to consider…
We do not consider ourselves a hardcore team, but our staff puts a lot of effort each week into creating missions and training events, so we require our pilots to try their best to participate in at least two events per week.
We operate 4 low ping public servers 24/7, based in the Eastern Time Zone. Use the DCS server browser and search for "TAW" to find our servers.
You should own the Syria AND Persian Gulf map, as we regularly fly mandatory missions from this particular theater.

After submitting your application to our team, you will be given temporary guest privileges on our Discord, expected to attend and participate in two weekly training events, and attend two Sunday Operations as an Observer. The purpose of this pre-screening is two-fold: for us to determine if you are an effective communicator and have the aptitude to fly with our team, and for you to determine if TAW NA 33rd is a good match for you. After these requirements have been met, assuming you are still interested in joining, we will proceed with the on-boarding process.
If you are accepted and brought in as a recruit, your first promotion would normally occur within 30 days after completing your Basic Badge qualification in your respective airframe. From there, every pilot has opportunities to contribute and help improve the NA 33rd: whether it be mission making, conduct training/bootcamps, flight lead or GCI during mandatories, or just helping to spread the word about TAW.
To communicate, we use Teamspeak (for attendance taking), Discord, and SimpleRadioStandalone (SRS).
Our pilots are not required, but highly encouraged to help support the cost of running our servers by donating funds. If you enjoy your time with us, please chip in when you can.
TAW (The Art of Warfare) is a community of gamers from around the world who are organized into various divisions that represent the online game of choice (in our case, DCS World). When you become a member of the TAW NA 33rd Division, you become part of the much larger TAW family.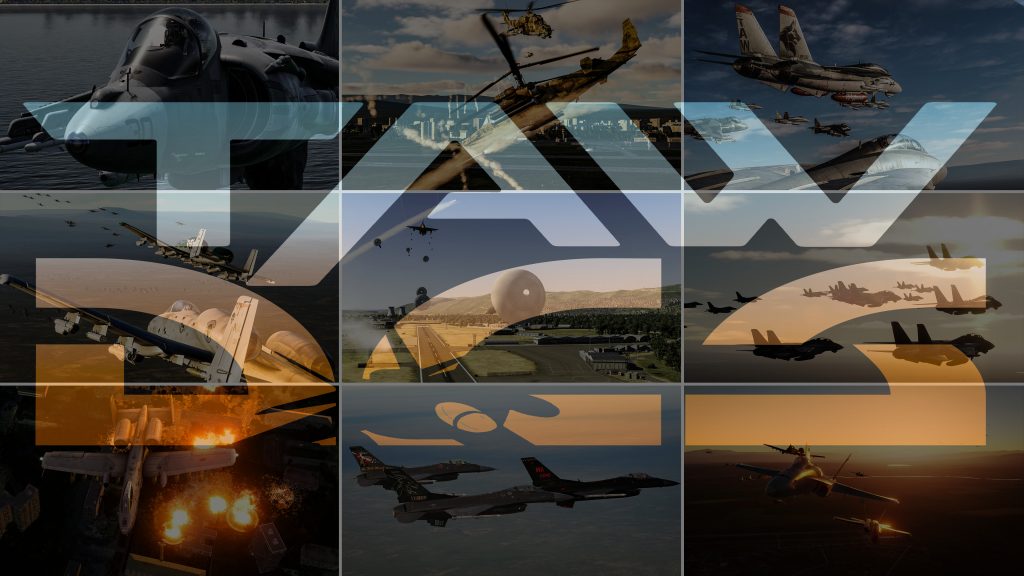 ---
---