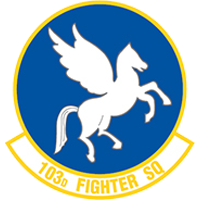 Battalion:
DCS EU 52nd TFW
Platoon:
Fighter Platoon
Callsign:
EAGLE 4
Members:
#1 OverG
#2 boedha
#3 GoaGil
Recruits:
Currently recruiting
Currently recruiting
Currently recruiting
Currently recruiting
Currently recruiting
Squad channels:
VHF 124.700 MHz
VHF 124.800 MHz
UHF 251.400 MHz
The Virtual 318th Fighter-Interceptor Squadron, is an F-15 squadron part of the DCS EU 52nd TFW Battalion. The Squadron was formed on the 1st September 2015 and led by OverG until December 2016 when the squadron were 4 regularly playing members. After that the squadron was very successfully led by redcoreSix until June 2018 when he formed the TAW Stingers. OverG returned and revived the Interceptors in early August 2018 and started a new recruiting campaign looking for F-15 pilots. From the start the squadron have proven to be a worthy opponent and OverG hopes to continue the success stories of the Interceptors.
The Interceptors currently consist of OverG and his recruitment campaign for new TAW members that will commit to fly the F-15 as their main airframe. We hope to build a strong team of pilots that work together to achieve mission success. The squadron's members will continue to represent TAW in external events like REDFLAG, SATAC and Joint Warrior.
The Interceptors Squadron holds a weekly debriefing session every Monday@19:00z where the mandatory event is debriefed, performance improvements is discovered and new training tasks is made. We hold two weekly training sessions to improve tactics and teamwork, these training sessions take place Wednesday and Fridays at 18:00z. All these sessions are optional, only the Sunday is mandatory but you can always excuse yourself from the mandatory if you happen to be busy.
The Interceptors Squadron will focus on flying and operating the flaming cliffs F-15C/DCS: F-15C but will also use the DCS: F/A-18C in an A2A configuration for some of the navigation and radar training. We hope there will eventually be a fully modelled DCS World F-15C that will be our main airframe and if a DCS: F-15E is released we will use this in an A2A configuration instead of the DCS: F/A-18C. We will use the TAW SOP and brevity to have the most effective communication and will always use DCS Simple Radio on all our training flights and in all events we participate.
The Interceptors are always up for friendly matches and PvP training. If you want a PvP event or are looking for an opponent to your training session then just message the squad lead.
Send email to the squadron